Comparing the Honda Fit and the Hyundai Accent
April 27 2016, The Honda Way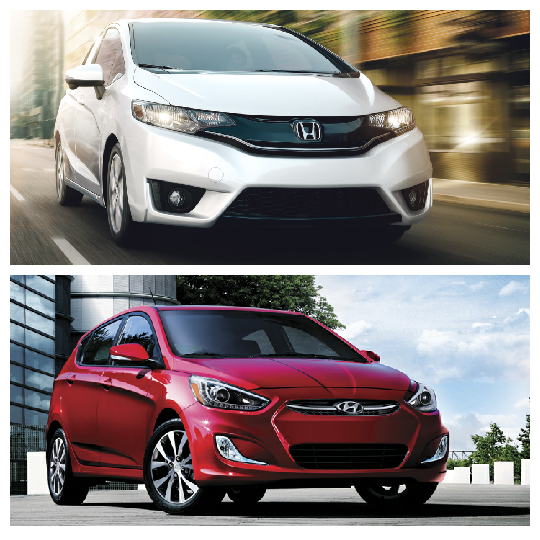 We take a look at two popular economy car models to help you make an informed decision if you're in the market for an affordable subcompact. Here then is how the new Honda Fit, significantly redesigned for the 2015 model year, stacks up against Hyundai's Accent.
The Hyundai Accent has remained largely unchanged since its launch in 2012. The Honda Fit, meanwhile, was retooled and restyled for 2015. The two hatchbacks both make use of contour lines and other flourishes to counter their basically boxy shapes. Having kept the same basic lines since 2012, the Accent is somewhat stodgier in its appearance, with the Honda Fit hatchback coming across as noticeably sleeker.
One area of notable difference inside the cabins of the two cars is the space and comfort they afford their occupants. TheHonda Fit provides ample room for four to be comfortable on even longer road trips, while the Accent limits itself to being more of a city commuter vehicle. One other significant difference is the foldable and flippable rear seats fitted into the Honda Fit, which allows you to create a large cargo area for larger items, suitcases, etc. This adaptability is surprisingly absent in the Accent - in fact, it's a rarity in the segment as a whole.
When it comes to performance, both offer similar-HP 4-cylinder engines, but the name of the game in the subcompact category is really to be economical, and the fuel stinginess of the Honda Fit is superior to that of the Accent, thanks in good part to the continuously variable transmission (CVT) that is available with the Fit. No trim of the Hyundai Accent comes close to matching it for fuel efficiency. Again, the combined city-highway ratings of the Fit (6.4L/100km) place it ahead of not just the Accent but just about every other car in the segment, particularly when using Honda's Econ driving-mode button and the Eco Assist system.
Turning to safety, always a relevant concern when looking at economy cars, it's nice to see that Honda did not skimp on important safety features in a search for cost-cutting. Here's how the Honda Fit and Hyundai Accent compare in safety tests:
Honda Fit: Top Safety Pick by the IIHS, Five Stars overall by the NHTSA, rated Acceptable in a small-overlap crash test by the IIHS
Hyundai Accent: Four Stars by the NHTSA, with concern noted over side-crash performance, rated Poor in a small-overlap crash test by the IIHS