Announcing the New 2017 Honda Accord Hybrid
April 26 2016, The Honda Way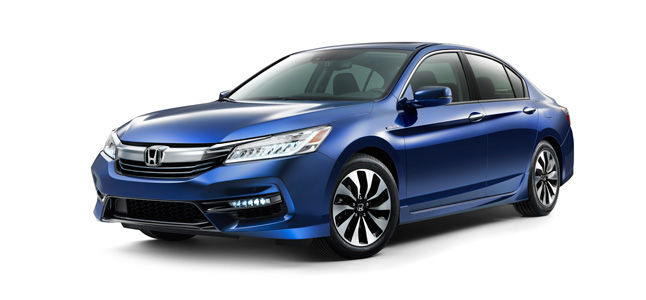 Honda has announced the arrival at dealerships this summer of the highly anticipated new 2017 Honda Accord Hybrid. Consumers looking for a cutting-edge, new-generation sedan with the Honda name on it will be thrilled at the chance to benefit from the latest hybrid technology in the popular Accord car.
The Ultimate Accord
This new Accord figures to be a significant addition to the roster of available hybrid family cars. In fact, in the eyes of Honda Canada, the Accord Hybrid should be considered the new flag-bearer for the Accord name. According to Dave Gardner, Senior Vice-President of Operations for Honda Canada, "The new Honda Accord Hybrid is the ultimate Accord. The most refined, technologically advanced and, of course, most fuel-efficient in the lineup."
Unprecedented Fuel Economy
Fitted with a super-efficient 2.0L i-VTEC Atkinson-cycle engine able to produce up to 212 HP (more power than any other competing hybrids including the Malibu, Fusion and Sonata), the power train of the 2017 Accord Hybrid delivers exceptionally stingy fuel consumption figures, namely 4.9L/100 km in the city and 5.1L/100 km on the highway. In city driving situations, of course, drivers will be able to rely on the zero-emission electric motor for shorter distances.
Upgraded Tech for 2017
Starting in 2016 Honda gave its Accord lineup some substantial infotainment and safety tech upgrades, and the new Accord Hybrid will feature those and more as standard elements. The dash will feature a 7-inch Display Audio touchscreen outfitted with Apple CarPlay and Android Auto. And occupants of the new 2017 Hybrid will be safer than ever thanks to the roster of advanced safety and driver-assist technologies included, including Collision Mitigation Braking, Lane Keeping Assist, Adaptive Cruise Control, Road Departure Mitigation, Lane Departure Warning and Forward Collision Warning, also all standard.
Exclusive Style Elements
Honda took time to design some Hybrid-exclusive elements for the 2017 Accord, as a statement differentiating the new Hybrid from its sister models. These include unique aluminum hood and wheels, LED headlights and taillights that feature blue highlights, and of course exclusive Hybrid branding on the exterior. Inside, motorists with families and those needing to transport cargo will be pleased that the more compact new battery pack in the 2017 Accord Hybrid allows for increased trunk space, with a capacity of up to 382 cubic litres.
A quick note for consumers as well: the announcement of the 2017 Accord Hybrid was accompanied by the news that Honda will be launching its new Honda Clarity plug-in hybrid model in 2018. Be on the lookout!